It's time to care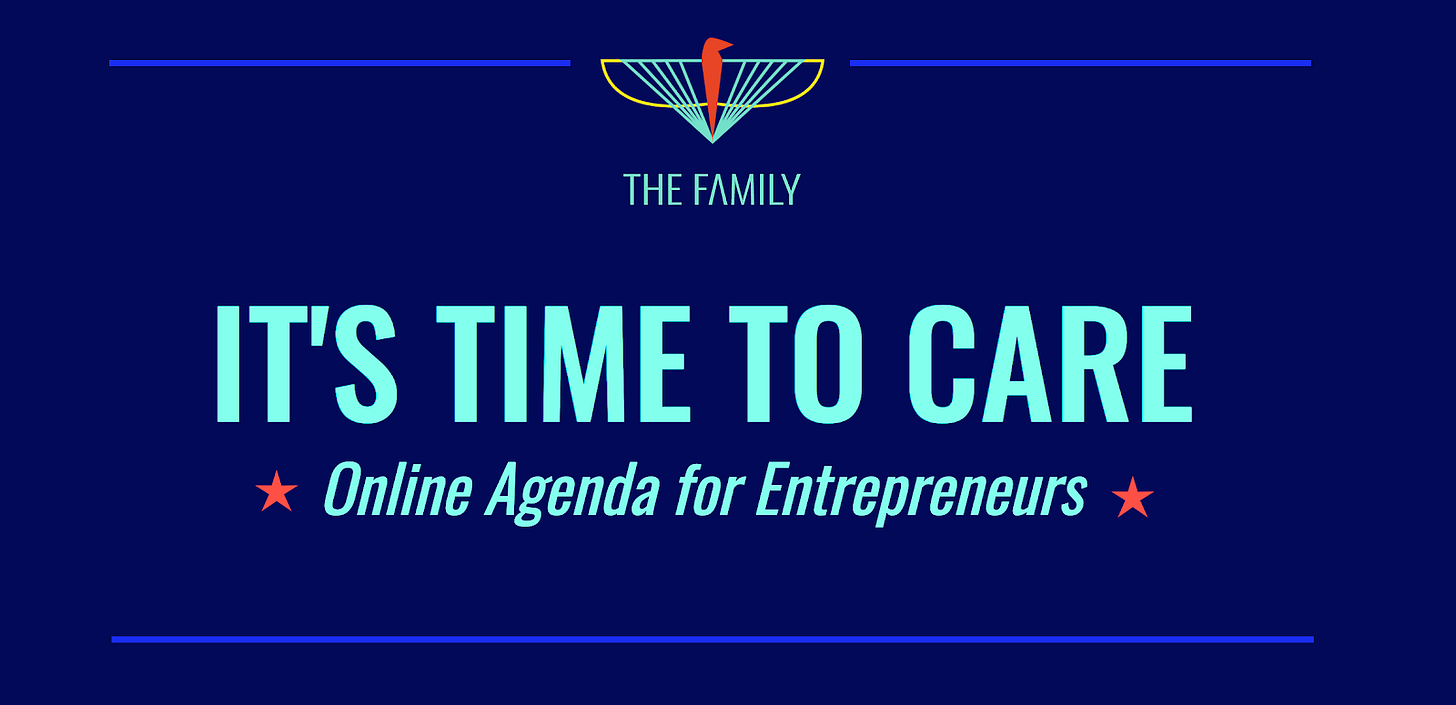 Hey team,
I hope you're doing good. That's all that matters, the rest is a bonus.
Let's make confinement a better moment for all of us. Many of you expressed how working from home wasn't easy, others said they would love to use this time to start a new venture and, more than ever, we all need human connections.
So we've dreamed up some online experiences that you may seriously enjoy… Ready?

This Friday: Remote Summit
This is a one-day summit about your current work situation. We've chosen only inspiring entrepreneurs, coming from UpWork, Buffer, InVision and more.
They will be giving you the keys to actually enjoying remote work. The schedule is unique: interactive talks, smart fireside chats and online networking (like ChatRoulette, but for professionals).

On Saturday morning: Find Your Cofounder!
What if you could meet your cofounder thanks to The Family? It's something that's happened so often at our dinners and conferences. Let's try to do it online? We've prepared a pretty packed morning for you, with pragmatic talks and speed-matching sessions, all with a crowd of passionate founders. 

Good Vibes
It's a daily live conversation with entrepreneurs you'll love discovering. They're the ones behind Inshallah.com, SoShape, Fempo, Fretlink, Inato, Heetch… I'll talk to them about how they're adapting to the current times, all with optimistic vibes. 
Most talks are in French for now, but some pretty interesting ones are coming up in English as well ;)
---
Be our guests, enjoy these events, give me feedback and suggestions to make them better and better.
By the way, our website is now focusing on giving entrepreneurs the support they need to navigate this storm. Check out all the resources for dealing with COVID-19 - we've curated the best and divided them up by both countries and topics.
And finally, our Fellowship directors Balthazar and Mathias have opened up their calendars to provide a hotline for any entrepreneur - reach out for a friendly ear and honest feedback. 

Take care.
We are united.

Alice & The Family