Discover more from The Family's Newsletter
European startups, events, jobs, and more!
Over 35,000 subscribers
Go with your flow
Let's kick off 2020 with your fave newsletter: pirate spirit, fresh news and hot events!
Dear Sailor,
Long time no sea ;)
The whole team at The Family is wishing you the best for 2020: a vessel with a purpose, navigating the odds, catching the fishes you aim for, and celebrating victories with your crew!
Pirates used to believe that having women on board would bring bad luck. Fortunately, this didn't prevent lots of women from disguising their identity to join up, or even starting their own crew.

At The Family, we know that "Anyone can become a great entrepreneur." But old patterns can be so deeply rooted in our minds that only out-of-the-blue experiments can reveal other horizons and bring new behaviors. In 2019 we tried new things - even initiatives I used to be "philosophically" against - like dedicated tracks for female founders. 
120 women have joined our Saturday bootcamps, called Goldup. I've been surprised by the results, the feedback is better than anything I could have anticipated. Goldup has been a game changer for each participant. Why?
Is it because of the expertise provided? No, you can find lots of smarter things online these days. Is it because of a highly selective process to join the community? No, we have no criteria except motivation. Has a unicorn been born at Goldup yet? It's too early to know, it's a long-term play.
Actually, the reason lies in the limitless joy of bonding with others. By all taking a risk at the same time, they rapidly get closer. They feel free to share their fears and defeat them. Witnessing the progress of their peers nurtures their own motivation, so helping each other becomes a game they love to play. See the virtuous circle?
The next bootcamp is starting on Jan. 25 in Paris, and a few spots are still available. Come along or tell your friends, you might really love that ship ;)
Could that recipe work for business angels as well? Let's toss out a message in a bottle! I'm happy to introduce you to Madrinas, a series of workshops dedicated to women who want to learn how to invest in startups (whether because they can now or because they already do it on their own, but feel lonely!). The 1st workshop is happening next week. My team and some very special guests have prepared a dense introduction to business angel investment: legal and admin basics, testimonials and pitch deck analysis, followed by a delicious dinner! Join us on Jan. 20, 5 to 9pm.
All eyes on Emna, CEO of Kazidomi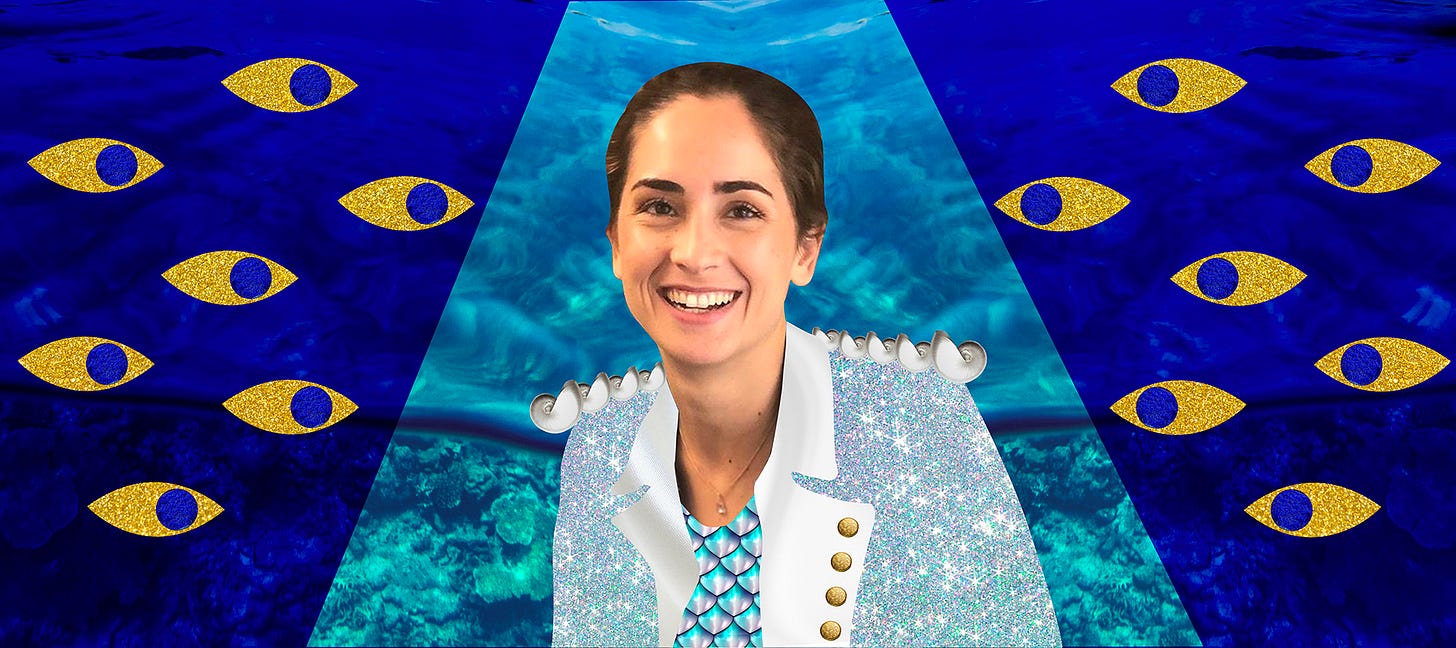 Now, let's focus a bit on an entrepreneur you don't know yet, someone who impressed me and my team recently: Emna Everard, CEO of Kazidomi.
She's been passionate about health since childhood.
When her dad used to take her to the supermarket, he would only let her pick products whose labels she understood. She became unbeatable at product ingredients. From a very young age, she dreamed of creating a supermarket where no one would need to check the labels, where every product would already be healthy.
Emna founded Kazidomi on her own while she was a student.
It's an e-commerce platform, where you can find a selection of affordable, natural and healthy products. Kazidomi became successful through the word of mouth, she rapidly found her business model (membership) and attracted talents - even her boyfriend decided to join her.
From organic food to natural cosmetics, 3,000 products are now available.
And tens of thousands of customers save money while enjoying products they can trust - no need to examine the labels! Kazidomi is B.Corp certified, which means it's seriously involved in creating an ethical company. And since good products that are affordable and healthy are limited on the existing market, Emna decided to create new brands and products - 250 of them, to be precise.
Democratizing access to a healthier lifestyle pays off!
With some of the strongest organic traction I've ever seen at The Family, she's on her way to making Kazidomi THE reference for low-priced healthy products. 76K people follow the brand on Insta and engage with her team daily. Kazidomi is available in Belgium and France and will be launching soon in more European countries. 
So this year, if you wanna take care of yourself, try
Kazidomi
.
Oh, and the best: she's a mentor at Goldup. Because hey, learners are givers.
The founders you wanna bet on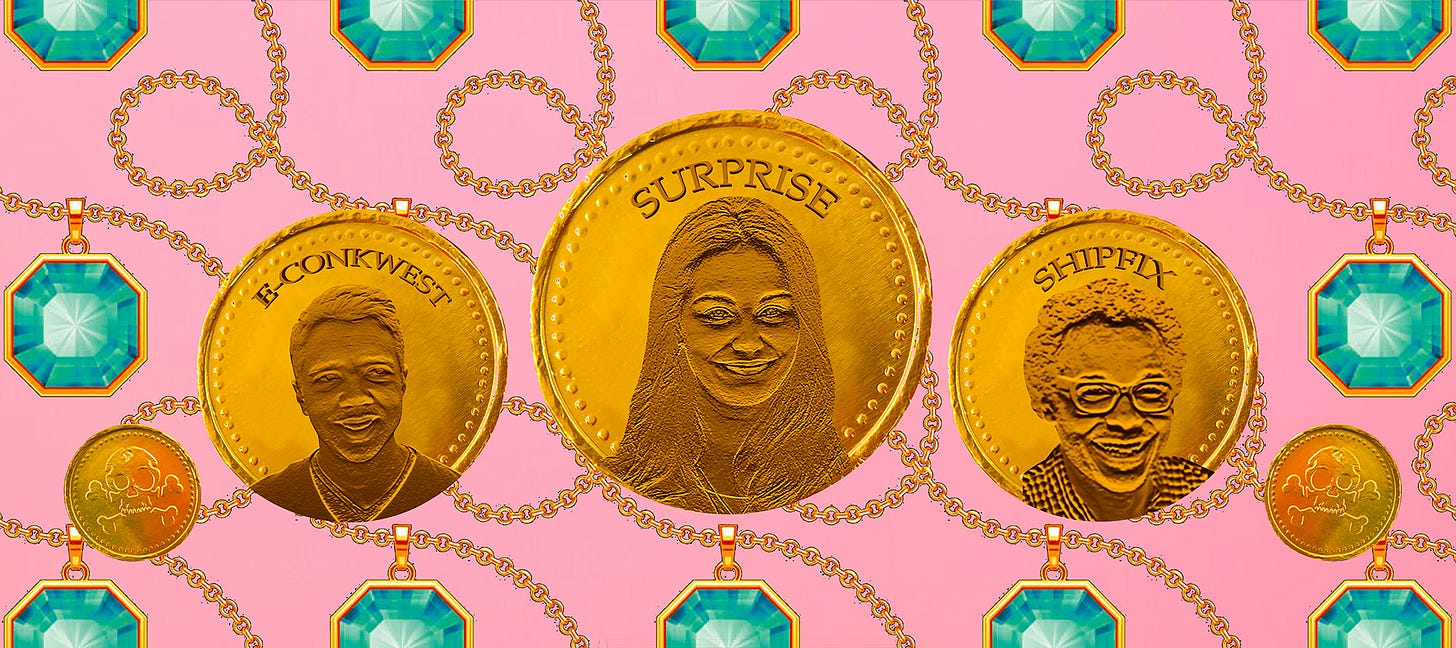 E-Conkwest: the finest community of e-commerce entrepreneurs
Creating e-commerce websites is easy. So easy that it's attracted all sorts of pirates, from aggressive dropshippers to sweaty "instapreneurs"...  But finding clients is a very hard quest! Econkwest can help you get there. You'll get secret deals, testimonials from the finest e-commerce entrepreneurs, and hands-on workshops. Get ready to ride across any ocean with your e-commerce ship, jump on board! (in 🇫🇷for the moment)
Surprise: a smarter way to shop
Imagine shopping at your hometown mall and discovering some real treasure. That's what Sarah is making possible with Surprise. This app keeps track of purchases to reward you for real. Why? Because she manages to make all the shops at a given mall collaborate together, sharing purchase data. How? By intelligently using the favorite tool of pirates, crypto.
Ships need a fix, and that's Shipfix ;)
Do you know how cargo ships actually get filled today? Brokers send thousands and thousands of emails to each other - 4,000 per day on average! An enormous waste of time, missed opportunities, duplicate offers, client frustrations... That's why the Shipfix team offers a simple platform that makes shippers' lives way easier. It's a big money market - good thing they just raised a $4.5M seed round.
Big ups to these captains!
When facing an ocean of doubts, one victory can change the whole picture. Let's say "bravo" to...
Job opportunities: All aboard!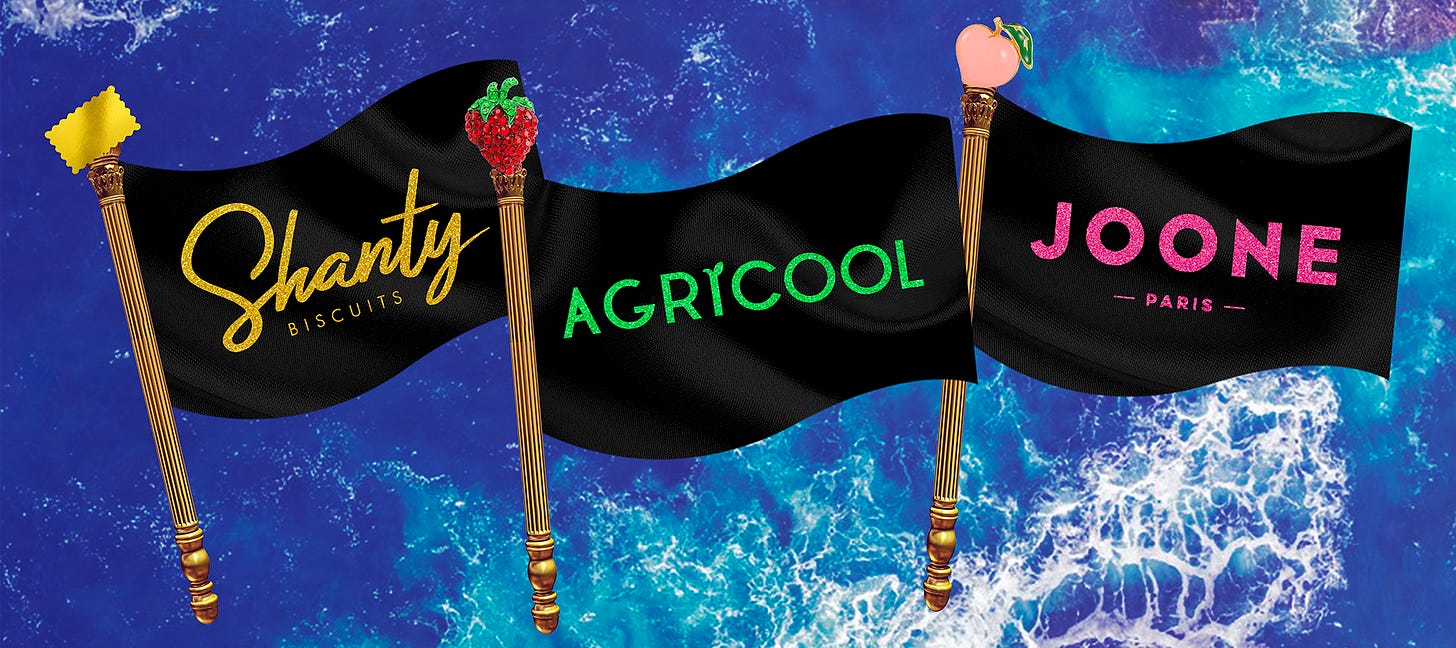 Tasty content
The queen of Instagram, the mermaid of cookies, the pirate of fun... Shanty is looking for her new content creator. You don't want to let this opportunity crumble away - just check out their Insta.
Sweet gig
The hackers of strawberries, the farmers of the future, the chefs of taste… Agricool's team is looking for a social media manager, so if you're fond of writing on food, ecology, and innovation, that's a sign.
Always fresh
Join a mission-driven team: the natural, original, and affordable baby diapers' brand, Joone, is recruiting. Carole, its ambitious captain, is welcoming new members: developers, head of brand/social, head of people, and more, all right here.
Events: Let's meet IRL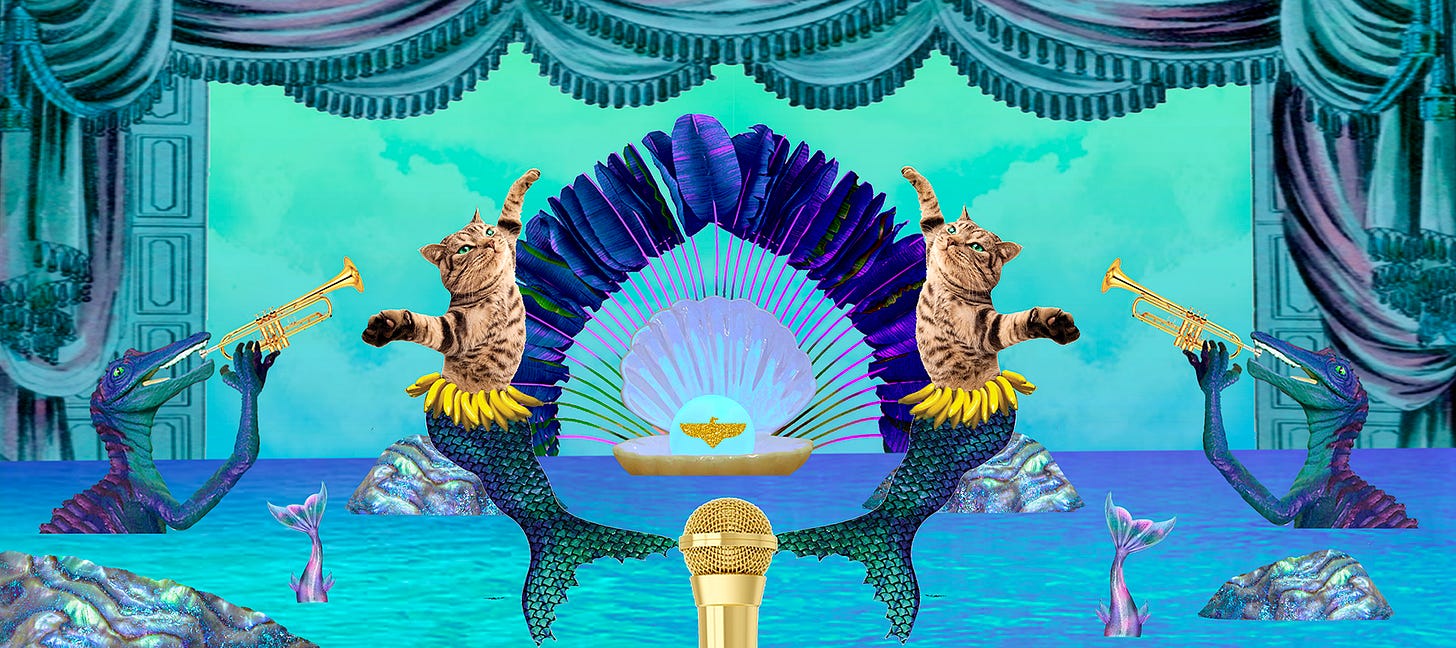 Nicolas's book is now in French
Nicolas published his book Hedge in English last year to explain our view on how to adapt society's safety net to the Digital Age. And now it's coming out in French! You can buy it starting on Feb. 19, and he's holding a series of talks to dig deeper. Join him on Jan. 16, Paris, tickets here (in 🇫🇷).
Humor will save us all!
Citizens of startup nation, heroes behind a laptop, just for one night, take a break from saving the world and come to Standup & Startups. 4 comedians and 2 entrepreneurs are on stage to give their (hopefully) hilarious takes on building a startup. Jan. 24, Paris, tickets here.
Learn how to make your customers happy
We're having more hands-on workshops in Berlin, the city with probably the most operational experience in all of Europe. We're bringing in top experts with pragmatic knowledge to directly apply to your startup. The next one focuses on marketing and creating an amazing customer journey. Jan. 30, Berlin, tickets (and a special TF Lover discount :) here.
A great French conference on product - oh wow!
This is the rendez-vous for product owners, product managers & product designers. Oussama will be speaking there, and even though we're not involved in the organization I thought you might like to attend. According to Oussama, it's "Undoubtedly, the best conference on product in France." Check it out yourself here, March 11, Paris.
Some treasure for your soul
About pitching.
Being the nice kid trying to get good grades is not the attitude that'll convince any investor. You're not in school anymore. You want to get money to conquer the seas? Your pitch is the teaser that reveals who you are, your potential and how exciting it would be to let you build your ship and your crew to discover new worlds. Captain Ouss explains it all here.
About finding your family.
Irina comes from Macedonia, studied filmmaking in NY, and started her own startup in Berlin. We met, and decided to work together. She explains how The Family provides the most important thing for founders across Europe: a community of ambitious individuals helping each other for real. She wrote this article, here in English and it'll soon be in German and Serbian too ;)
About being optimistic
.
We're into 2020, and the European tech scene definitely changed since 2010, for the better. Nicolas published this article in Sifted talking about the 3 big contributions to today's growth in European tech — the crisis, China and the techlash. You'll be happy to have read this analysis of a whole decade, just 5 mins. long!
That's all, pirates!
Hugs & kisses,

Alice & The Family team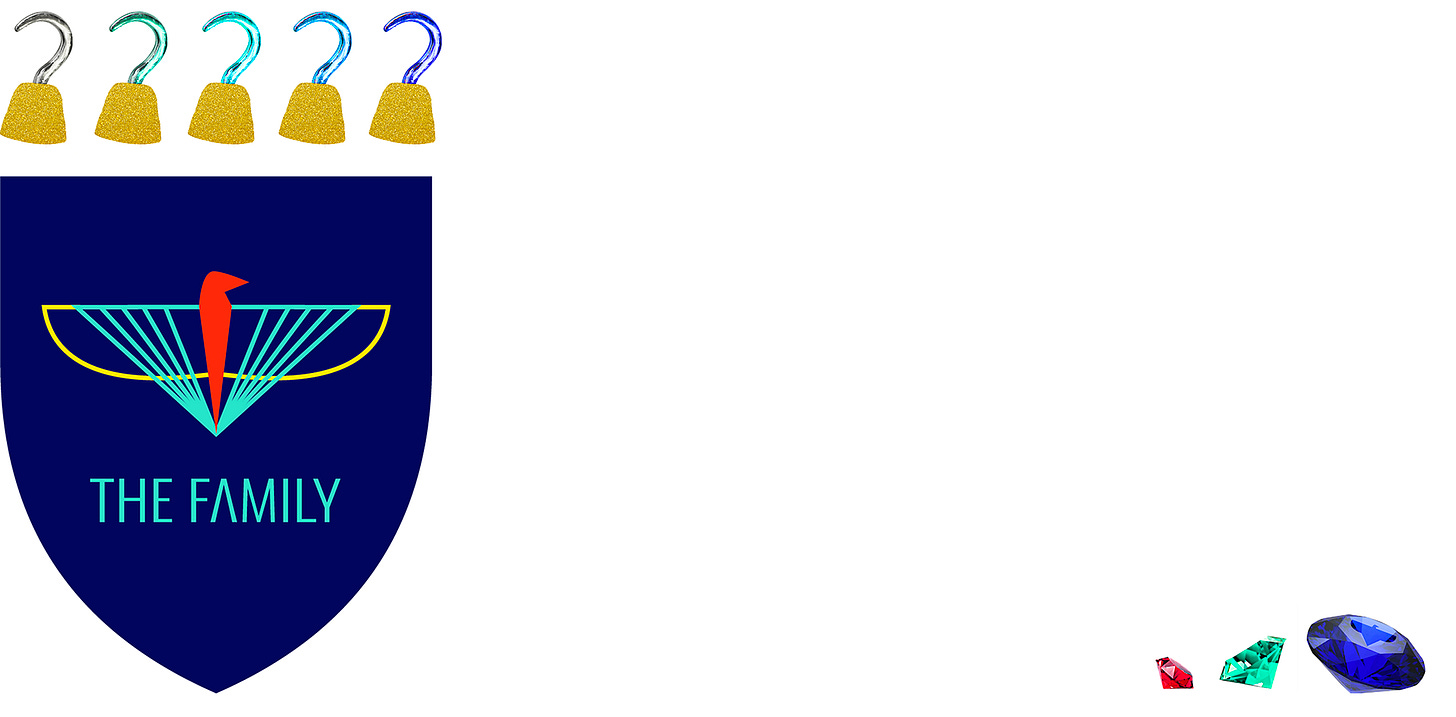 ---
Let's meet again on Instagram, Facebook, Twitter, LinkedIn, Medium, YouTube 💖