About the will to build.
Dear entrepreneur,

I saw this quote attributed to Albert Einstein, in 1931: "To speak about a crisis is to promote it. Not to speak about it is to exalt conformism. Let us work hard instead. Let us stop, once and for all, the menacing crisis that represents the tragedy of not being willing to overcome it." 
Indeed, that "will" to overcome is the key to action. It's also the message I retain from the blogpost of Marc Andreessen, who talks about the "desire" needed to make a better society in every field: healthcare, housing, automated factories, education, transportation...
So if I want to, I can?
I'd like to add an observation: No will to act can emerge from denial. Among all the daring entrepreneurs I've been observing these last few weeks, there's something they share: They are facing reality as it is, and they are afraid. They're going through intense emotions - doubts, anxiety and fear. Only then can they act: pivoting, transforming, creating, building.
These weeks have impacted us all, profoundly. Freedom is limited to our homes, other people are a threat and social distancing is the new norm, borders are closed, presidents talk about a "war", unemployment is booming, cash is (a missing) king.
Emotions are real, they nurture our behaviors and direct our actions. Today the consequences of fear are concrete. It's important to recognize that if we want to "build". Being courageous doesn't mean being overly confident. It means being aware of the risks, listening to and recognizing one's fears, and then deciding to overcome them. In "courage", you have "cor", the Latin word for "heart": being courageous is being close to your heart and emotions, accepting your vulnerability.
Only then can that "will" perhaps become coherent, profound and unifying, logically taking into account the real things - health, education, justice, housing… - needed for an inclusive, green and happy society.
If you agree and want to build, NOW, let us know ➡️ hello@thefamily.co
Cool. Now it's time to get some fresh news and stories of founders I find courageous ;)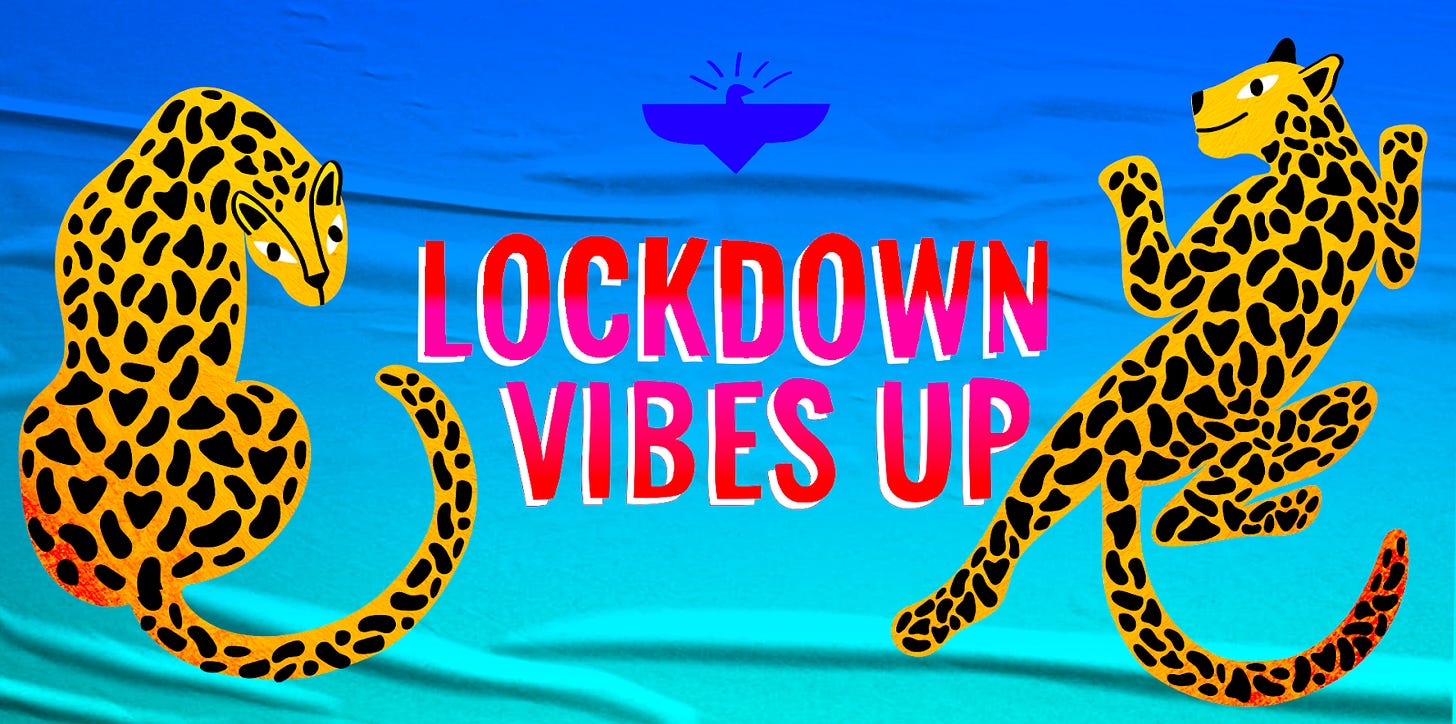 Fresh news
✈️ My cofounder Nicolas Colin launched Nouveau Départ
Nicolas is giving in-depth looks at specific industries and where they're headed. If you're thinking of launching a startup, if you're investing, if you're trying to figure out how to re-position yourself or your company, subscribe (🇫🇷).

🌈 Every day at 12:19pm CEST, let's get some...Good Vibes!
Live chats with inspiring entrepreneurs, adapting to the current times.
Get the full schedule and book your ticket right here.
You can watch past episodes with the CEOs of Comet, Inshallah, Ada Tech School, HireSweet, Heetch, Jow... right here!

❤️Goldup: Girls, we made it!
Our entrepreneurial bootcamp dedicated to women, Goldup, has switched to become a fully online training program. The participants have been helping each other even more during quarantine. So now we're launching a new bootcamp, together with our partner Shopify, running from May 4-13.
If you're a woman willing to learn how to build your new business while being surrounded by a crew of feminist founders, ask me all your questions tomorrow at 10:30 am during a live Q&A (in 🇫🇷).
Big Ups
In case you're wondering if entrepreneurs have a role to play now… Let's get some concrete examples ;)
🧪 Kourosh & Inato: Data for researchers.
Getting a vaccine could change the game. Kourosh and his team usually work to help clinical trials get more patients, faster. Right now they are dedicated to Anticovid: an open access platform that gathers all available information regarding global clinical trials for the virus responsible for COVID-19. Pooling information is critical for optimizing resource allocation as quickly as possible.
🛠 Quentin & Baptiste: Building respirators with MakAir!
Two of The Family's beloved entrepreneurs teamed up: Quentin of Clever Cloud and Baptiste of Crisp, both based in Nantes, both doers. They heard what we all heard: one of the big problems was a lack of respirators in hospitals. So together with entrepreneurs, engineers and medical professionals, they developed a medical-grade respirator design, the MakAir, totally non-profit. 
💖 Hind & WeMind: Insuring freelancers, now.
Especially if they're hospitalized, freelancers need support for the income they lose, and WeMind gives it.
🙏🏽 Anastasia & MyDiabby: Taking care of diabetes patients, from home.
Everyone's trying to keep pressure off the hospitals, and MyDiabby lets patients monitor their diabetes and talk with their doctor remotely.
😷 Lavinia & Akesio: COVID-19 de-stress!
Self-care is essential right now. Lavinia is a Medical Doctor using her knowledge of how stress impacts health to bring a human touch to your day.
💸 Ali & Mansa: Freelancers get loans.
Freelancers are a big gap in all the government plans to help businesses. Mansa can get them the cash they need fast, because their entire business is making freelancers' lives easier.
🥗 Jacques-Ed & Jow: Enjoy cooking from home.
It's easy to feel down in confinement, to get stuck in a routine. Jow takes something important - food - and gives you fresh recipes AND safe, fast delivery of the ingredients you need.
👨‍🍳 Sixte & Nestor: Caregivers in hospitals get food delivered for free.
If you deliver meals to office workers, you gotta go where they are - and that's at home right now. So Nestor did, all while donating part of the proceeds to the public hospital system.
🌏 Shannon & Schoolmouv: Great education online.
School's out, but learning's gotta keep going. Schoolmouv's offering their catalog of materials for just €1, which is a huge relief for parents.
🌳 JC & Agroleague: How to become better organic farmers?
Switching agricultural habits is hard and farmers need help. JC and his team bring together education and community to boost them up.
🌹 Louis & Merci Handy: You are heroes.
Turn your production completely to making hydroalcoholic gel in a few days? Yep, they did, to get virus-fighting power to the people who need it most right now. 
🔥 Olivier & Kymono: Let's be swagging!
Kymono designs customized outfits for startup teams, on demand. The founder, Olivier, wanted to contribute and created a t-shirt for all those "masked heroes" - and 100% of the benefits are given to Protège Ton Soignant, the non-profit supplying gear caregivers need. 
👅 Totem X Jow: Healthy breakfasts delivered at your home!
Two entrepreneurs from The Family teamed up to provide breakfast to your house. If you're in Paris or its suburbs, download Jow and enjoy Totem's food ;)
👁 Zoom fatigue? Bubbly cares for your eyes.
Bubbly's team is keeping people able to see, supplying contact lenses, even while all the opticians are closed. 
🚛 Paul & Fretlink: Allowing transporters to see the emergencies.
Fretlink changed their UX to meet the needs of the crisis: they let transporters declare which return trips they need to fill up fast. Plus, they have a new blog!
👻 Chris & Pasabi: Fighting fake news!
Pasabi won a big deal with Trustpilot to put their AI to work combatting fake content and reviews.
🌱 Thibauld & Fairmint: A new funding system.
Fairmint is now launched and investors have already bought over 100K FAIRs! If you're an entrepreneur looking for a non-dilutive way to let supporters around the world help finance your business, check it out.
⚙️ Roldan & Mekanika: Buy machines and learn.
As you've seen during this crisis, owning the production chain fully and autonomously is key. Mekanika is the first open source digital milling machine for artisans & carpenters.
💖 Thibauld & Jubiwee: Care for your team.
Jubiwee is showing that team management and employee engagement is more important than ever by having tripled their onboarding of new clients.
🎓 Marie & Iconoclass: Learn how to sell.
Iconoclass has opened signups for their next Sales School session in September, and they'll be live online on May 5 to answer all your questions.
👑 Alexandre & Fleet: Cash is King.
Fleet allows you to rent computers and reduce your cash burn, which is crucial right now. And guess what, they're still operating and delivering computers to your door!

Oh wow, you're still here?
I love you for that ;p

Let's be courageous, now you know the road: reality, emotions, actions.
See you soon, and take care,
Alice & The Family team